Hardenize
Discover and Monitor Your Network Perimeter
Continuous discovery and monitoring of network and security configuration, and certificate inventory with support for Certificate Transparency Log analysis.
Why do organizations choose Hardenize?
Hardenize provides a managed service that combines automated discovery of your internet assets with continuous network and security configuration monitoring.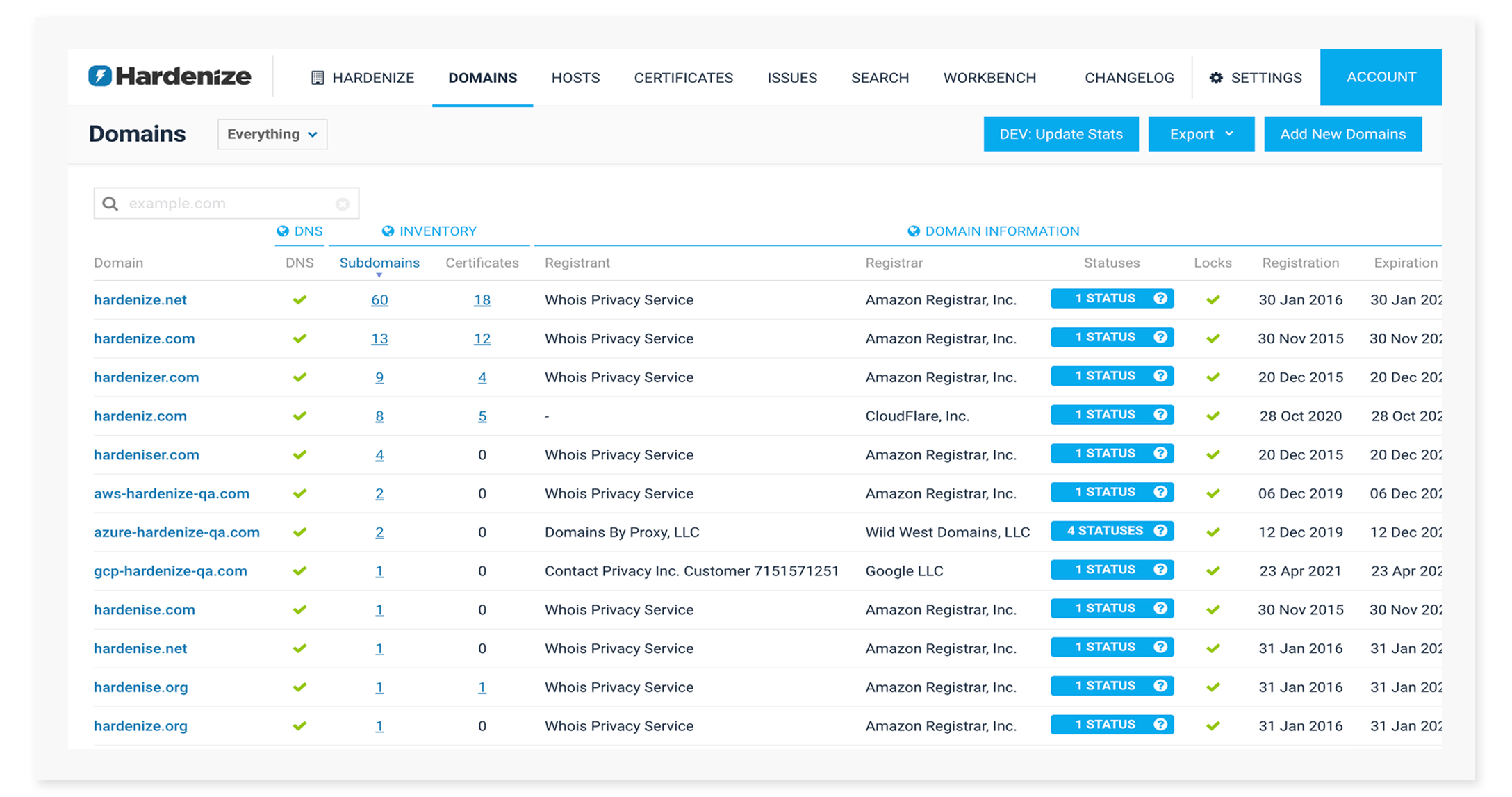 Internet Asset Discovery
No one wants to spend their time populating databases. We draw from multiple sources of information to maintain a search engine that can help you find your websites. We rely on this search engine initially during the onboarding process so that you can get results quickly. Later, as you continue to use Hardenize, we search in the background to find new properties that belong to you and automatically add them to your inventory.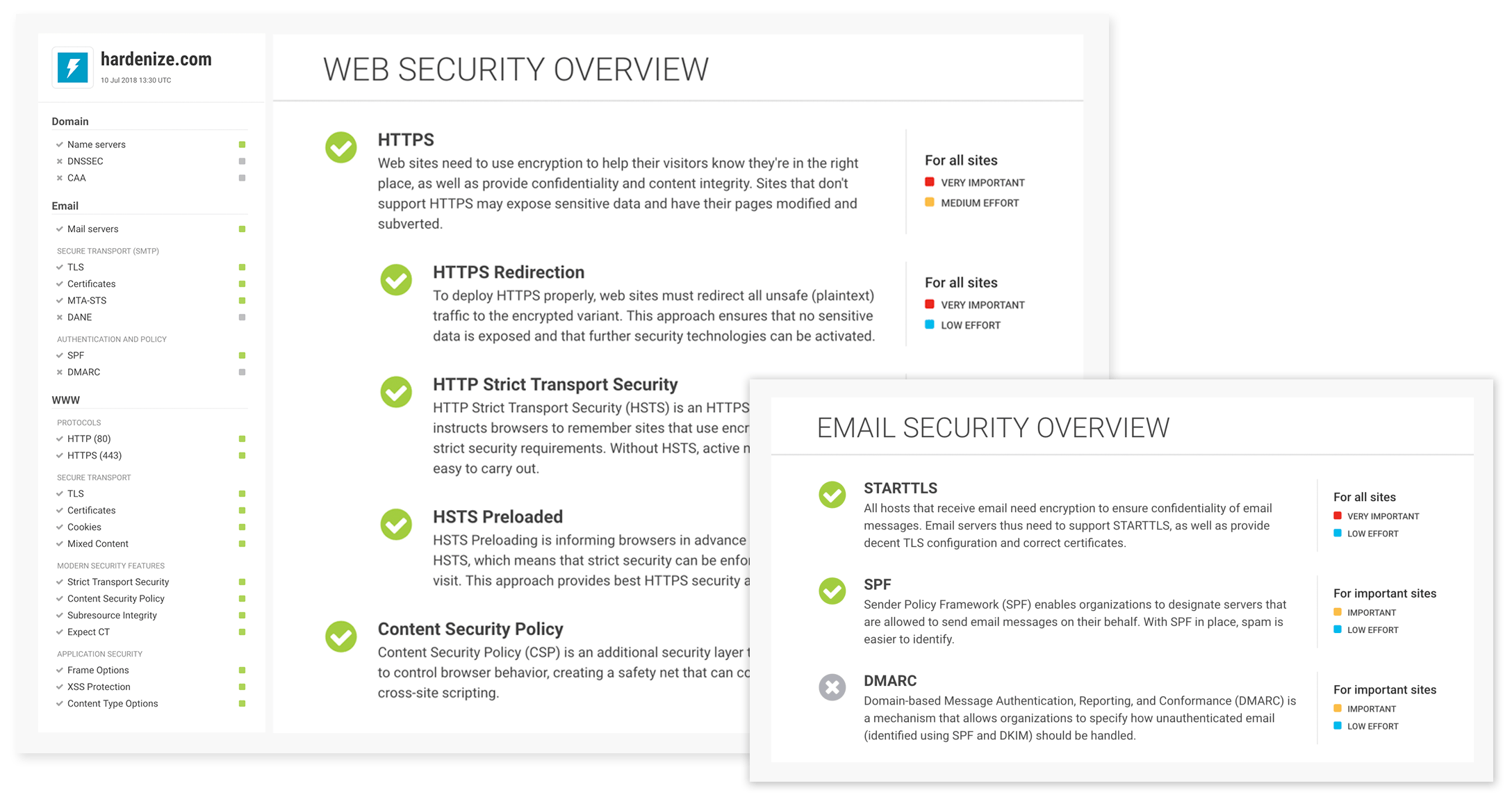 Host and Network Monitoring
We continuously monitor your entire network perimeter with fresh data available on a daily basis. We combine scanning of domains, hostnames, and IP addresses. Our network scanning covers the top 2,000 TCP and UDP ports.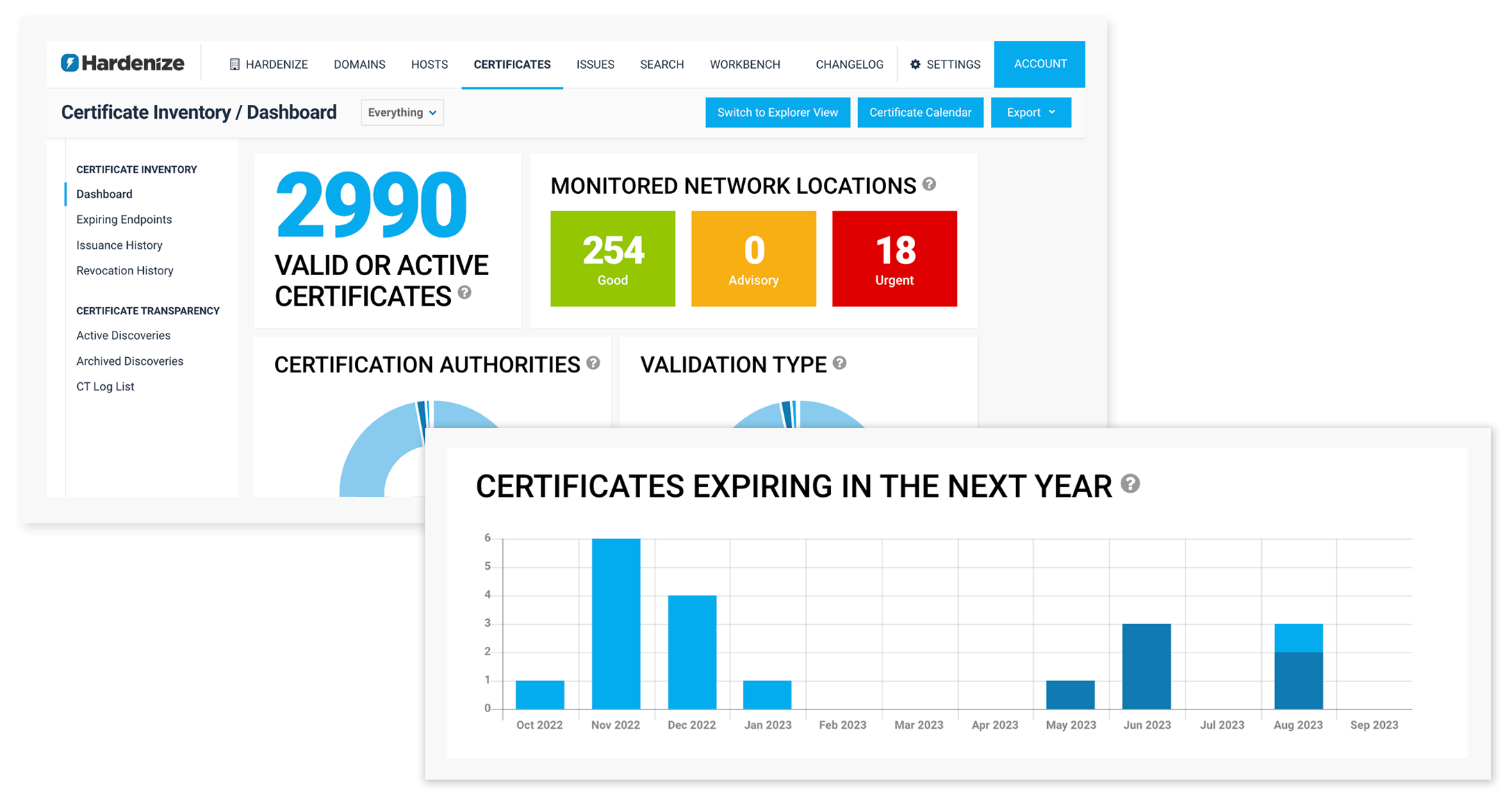 Certificate Inventory and Expiration Monitoring
We monitor your certificates and notify you if they're about to expire, proactively avoiding downtime. Crucially, we also monitor the certificates of third-party services your sites rely on, helping you avoid problems via dependencies and services you don't control directly. Finally, via Certificate Transparency, we observe all the world's certificates as they are issued in real-time. We automate analysis of these discoveries so that you can ignore those that are known and compliant, but focus your attention on misissued certificates.
We rely on Hardenize to identify when our digital certificates are due to expire. We can easily inspect certificate details along with the endpoints that were discovered serving them without resorting to low-level debugging tools. Hardenize is allowing us to work methodically through our inventory of digital certificates before they expire while constantly monitoring progress along the way.
A Digital Resilience Platform built for an evolving attack surface
Hardenize is one of the core products that make up the Red Sift Digital Resilience Platform. It gives organizations both visibility into, and direct control over, known and unknown vulnerabilities affecting their public-facing assets across email, domain names, and the web.
Ready to secure your network perimeter?